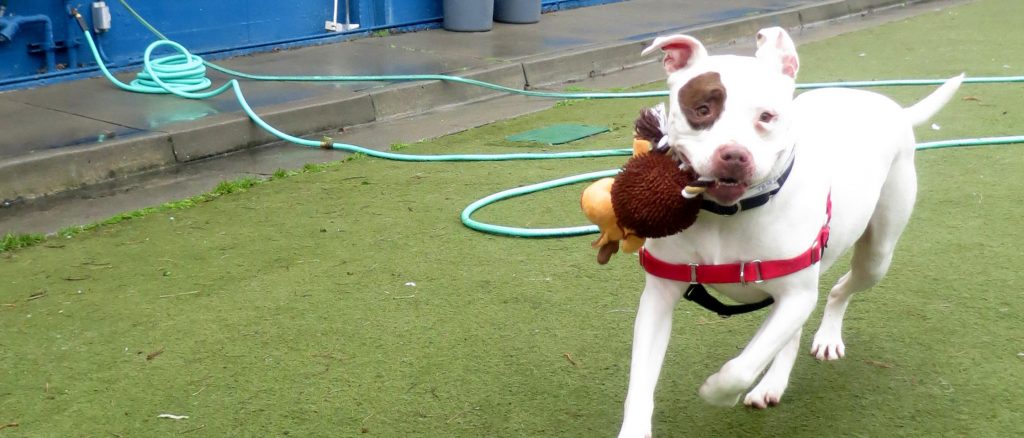 Many San Francisco Animal Care & Control programs and services for the public and their pets are funded by Friends of SFACC. These critical programs are outside the scope of the current City budget. Thanks to your generous support, these shelter enhancements continue to help San Francisco's animals.
Behavior & Training (B&T) – Friends funds support staff (animal behaviorists) for the full-time Behavior and Training Manager. These contractors perform animal assessments and evaluations, volunteer training, consultations for adopters, classes/support for public. The training and socialization the animals receive from volunteers optimizes their chances for adoption. Trainers consulting with adopters helps ensure a successful adoption in the home. The combined efforts of volunteers and trainers improves the shelter's live-release outcome and serves the public.
Foster Program Support – The B&T Dept. currently coordinates fosters for dogs and cats; Toni's Kitty Rescue coordinates fosters for neonatal kittens.
Medical Emergency Fund – Friends of SFACC provides funding for special medical treatments and procedures that cannot be provided by the shelter vets (i.e. orthopedic surgery). This funding is provided on a case-by-case basis.
(Temporarily on hold) Rabies and Microchip Supplies – Quarterly clinics held at SFACC provide low-cost rabies vaccines and free (for SF residents' licensed dogs) or low-cost (for nonresidents) microchips.  This program typically serves 80-90 clients per clinic session. In Dec. 2018, at the quarterly clinic, SFACC administered 68 rabies vaccinations, 18 microchips and 61 dog licenses. The clinics not only provide a service to the public and their pets, they also raise awareness about SFACC. Friends also supplies microchips to the VetSOS Community Clinic Consortium, which provides free veterinary care for pets of homeless San Franciscans.
Marketing/Outreach – Because the Dept. of SFACC doesn't include a marketing department, Friends funds special projects, signs, banners and other pieces for outreach events, in both print and digital media. Friends of SFACC also funded the SFACC website design/hosting, bringing the shelter website off the city grid and creating a more interactive and community oriented website, with accessible social media components.
Staff Events – Employee appreciation, volunteer recognition, holiday party for staff and volunteers, appreciation gifts.  Friends helps coordinate and pay for these events. Friends also supports staff morale/retention and volunteer recruitment/retention events that cannot be arranged on City time or with City funds.
Equipment and Supplies not Covered by SFACC Budget – Including Astroturf in the shelter park where dogs and rabbits get exercise and playtime, orthopedic dog beds, industrial washer/dryer, toys, treats, event posters, a projector for volunteer presentations, a high-quality camera for intake photos, and a Sonos music system for the kennels. Friends funds equipment and supplies that help SFACC staff accomplish tasks more efficiently and that improve the quality of the animals' lives in the stressful shelter environment.
Rescue Partner Grants – Friends awards local animal rescue groups with microgrants to help them rescue all species of animals from S.F. Animal Care & Control. The Rescue Partner grants also keep the Bay Area rescue community engaged with SFACC, including them in their own network and adding a potential adopter base. In 2021, Friends awarded grants to 25 rescue groups for their work the previous year.
Senior Cat/Baby Cat supplements – Food and supplements for seniors and kittens not thriving on Halo.