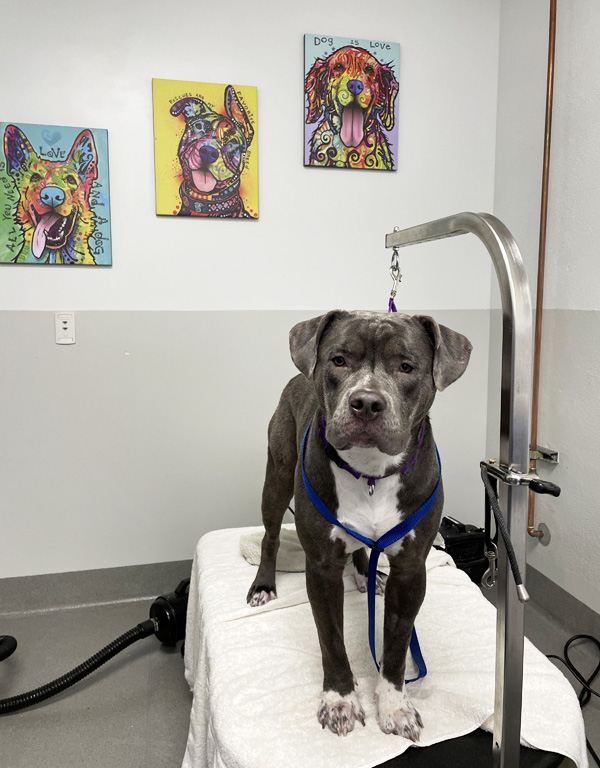 By Lisa Stanziano
Editor, The SFACC Newsletter
Pulling into the driveway of the new SFACC building at 1419 Bryant, the first door you see on the right is Bernie's Grooming. Bernadette (Bernie) Machado operates two shops in San Francisco (the other is City Dogs at 177 Brannon Street). For over a decade, the groomers who work at the shelter location have served shelter dog clients as well as private clients, and Bernie was invited to move from Harrison to Bryant Street with the rest of the SFACC crew.
The partnership began in 2006 when then SFACC director, Carl Friedman, imagined offering grooming services for pets as a way to draw people into the shelter and change negative perceptions that some folks have about animal shelters. "His idea was that if people brought their own dogs to be groomed and saw the staff at work, and how well the animals were cared for, they might come away with new insights about the shelter and see that SFACC is a haven for animals who need help, not a scary place. They might also learn about available services and might happen to see a dog or a guinea pig to consider adopting. And my team would groom some shelter dogs to make them look and feel their best, making them more comfortable and adoptable. It was a brilliant outreach idea. This was Carl's visionary idea, to open awareness of the care given to SFACC animals."
Working on this theory, Bernie and her team groomed shelter dogs as needed, in addition to private appointments. "In some cases, I would say four out of five of the dogs who come in to SFACC are being bathed for the first time. Some are very shy. My approach has always been to work with a dog's pace and not to add to their stress. If a bath and a nail trim seems too stressful, I'd wait on the nail trim." Responding to each dog's level of anxiety, Bernie works slowly to gain their trust. Her philosophy is that if an animal feels good, it will be more self-confident and happier. She developed this outlook at a young age. Growing up, she noticed that whenever her family dog went to the groomer, they came back with injuries—cuts or knicks. At the tender age of 11, she decided she would become a groomer herself—a caring and careful groomer who would not hurt the dogs. She has fulfilled her pledge and then some. Bernie opened her first grooming salon  on Valencia street in 1996 and moved to SFACC in 2006; then open City Dogs on Brannan Street in 2011. Bernie's goal for each dog is to "make them feel as special as a person does when a dog greets them with a smile and a wagging tail." Dog lovers understand what this means.
What's evident to me the more we talk is that Bernie is also a community-minded person, who is nice. She values niceness highly. "Every person I hire, whether they're experienced groomers or interns, must be a niceness is a quality Bernie admires and requires. I can teach them how to groom but I can't teach them to be nice. That's a requirement for anyone I work with." And teach them she does. Since 2012, Bernie and her staff have volunteered to teach grooming skills and mentor students at the Life Learning Academy, a SFUSD charter high school founded in 1998 by the Delancey Street Foundation. The school is committed to creating a nonviolent community to serve the highest-need students in SF who have not been successful in traditional school settings.
Bernie and her staff at City Dogs have also volunteered to work with the Mayor's Youth Employment and Education Program (MYEEP) students since 2015 (except during the pandemic). MYEEP is a collaborative of non-profit organizations that provide job readiness training, work experience, academic support, and personal development to SF youth challenged in their attempt to access employment. "The hands-on training starts in the bathing room and progresses to the job of a groomer's assistant. Here again, my staff and I spend countless hours mentoring these students." Bernie loves working with teens and sharing her expertise, giving them skills they can transfer to a job that they love. She recalls one intern who "was so delighted in how well one particular dog's grooming came out. He was very proud. If I can help students find their passion and bring them that joy, then I've done my job. It's wonderful to see."
Bernie was thrilled when she was asked to bring Bernie's Grooming to the new SFACC shelter to continue the partnership. She has a "shingle" outside and has brightened the shop with colorful portraits of dogs. One thing for certain is that every shelter dog groomed by Bernie's team will look good and feel good. They'll be ready for their new home.
Note: Bernie has adopted senior dogs for many years. She currently has a young fox terrier named Nelly.