Featured Partner: Palomacy
Palomacy (a project of Community Initiatives) is a network of volunteers working together since 2007 to save the lives of domestic, unreleasable pigeons and doves that would otherwise be killed in shelters for lack of adopters. Volunteers respond to calls from shelters, vets, and good Samaritans to provide avian vet care for ill or injured birds, long-term foster care, and to eventually place them into qualified forever homes. Palomacy's foster volunteers care for approximately 150 birds at any given time and are the heart and soul of the rescue.
Humans have been breeding and using pigeons, as meat and messengers, for sport, hobby and ceremony, for thousands of years. Pigeons were the first domesticated bird. The Bay Area has lots of pigeon racing clubs, fanciers, and hobbyists breeding thousands of domestic birds they fly the wild skies every year. But no one was rescuing the pigeons who predictably get lost or injured yet lucky enough to make it to a shelter.
While other animals brought to the shelters—dogs and cats, rabbits and parrots, rodents and reptiles, wildlife and farmed animals—had at least one rescue dedicated to trying to save them, the pigeons did not. When Palomacy started rescuing and rehoming these domestic pigeons and doves, they began bridging this gap. They call their work palomacy.
Pigeons and doves are smart, gentle, charming, and wonderful as companions.They don't bite. They're not destructive. They're quiet and calm and make wonderful pets. These domesticated birds are unable to live in the wild.
The organization routinely takes King pigeons and doves from SFACC, and occasionally feral unreleasable pigeons (like Bean) and still has birds from SFACC in long term care. Palomacy has received several microgrants (including for their work in 2017) from the Friends of SFACC's Rescue Grant Program to support their efforts.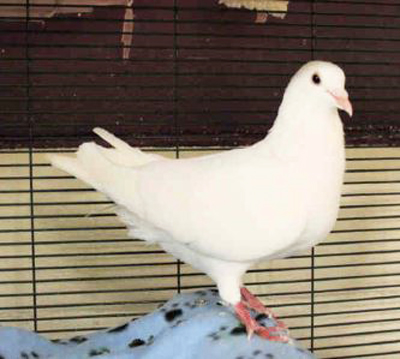 Palomacy's mission: We save homeless domestic pigeons and doves in the San Francisco Bay Area. We provide guidance, referrals, education, foster care, avian vet treatment and adoption services. Thanks to the support of our many volunteers, donors and partners, we have saved the lives of more than 600 birds since we began in 2007 and helped countless others. Learn more about Palomacy. Watch this VIDEO about adopting pigeons/doves as pets.
[Content adapted from the Palomacy website]
---
Rescue Partner Grants
Friends awards local animal rescue groups with small grants to help them rescue all species of animals from SFACC. The Rescue Partner grants also keep the Bay Area rescue community engaged with our shelter and include our animals in their own network, adding a potential adopter base. 
In recent years, Friends of SFACC has awarded grants to the following rescue groups who have accepted animals from the shelter:
Azaya Ranch
Bay Area Bullies
Bay Area Siberian Husky Club
Big Dawgz
California Chins
Copper's Dream
Dog Zone Rescue
German Shepherd Rescue of Northern California
Give Me Shelter Cat Rescue
Grateful Dogs Rescue
Mickaboo Companion Bird Rescue
Muttville Senior Dog Rescue
Miranda's Rescue for Large & Small Animals
Northern California Bulldog Rescue
North Star Rescue
Our Pack Rescue
Palomacy Pigeon and Dove Rescue
Persian and Himalayan Cat Rescue
Rocket Dog Rescue
SF Rescued Orphan Mammal Program
SF Community Clinic Consortium – Veterinary Street Outreach Services Program
SaveABunny
Schwartz Family Animal Welfare Foundation
Sonoma County Reptile Rescue
Southern California Dachshund Relief Inc.
SNAP Cats
Tenth Life Cat Rescue
WildCare
Wonder Cat Rescue
Wonder Dog Rescue
The Rescue Partner Grant Program is one of many programs funded by the Friends of SFACC.