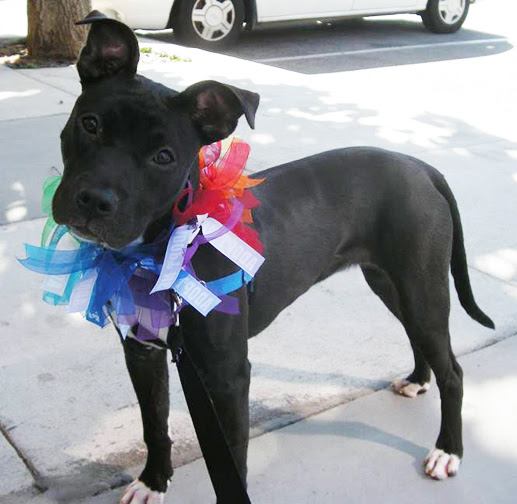 On a cold day in January, ACC dispatch received a call from a concerned citizen who noticed a bleeding puppy tethered to a scooter in the SF SOMA neighborhood. When officers arrived they found the man who had reported the puppy crying because he was so upset about the situation. The puppy was between parked cars partway down a filthy alleyway, tethered to a scooter and sitting in a pool of her own blood. She was lethargic but as the officers approached she stood up and started wagging her entire body. She curled into an officer's arms as she was picked up and placed into an ACC van.
The puppy was taken to the emergency vet where she was given a poor prognosis. Parvo Virus was strongly suspected though she tested negative upon intake. She was weak, with little interest in food, and had ongoing vomiting and diarrhea. She received intensive care and was retested. A second test also came back negative though her condition was worsening; then suddenly, she bounced back!
Poppy made an amazing recovery and was made available for adoption. She was trained by volunteers in basic manners , socialized to people and dogs, and received lots of love from staff and volunteers.
Dogs like Poppy can require care beyond that which the City budget is able to provide. Thanks to Friends of Animal Care & Control's Emergency Medical Fund, ACC was able to get Poppy the treatment she needed and she was adopted into a loving home.
[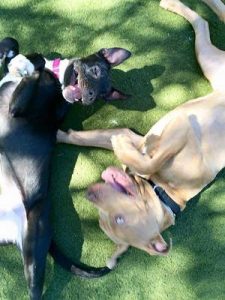 Poppy (left) playing with her buddy Bo at SFACC