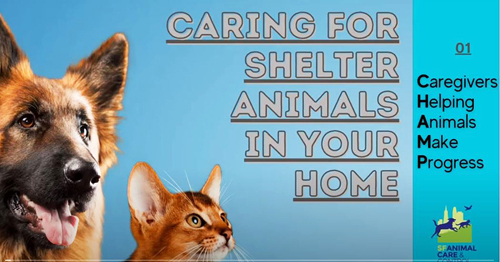 One silver lining from the shelter restrictions has been a transition of SFACC volunteers from working with animals in the building to fostering adoptable animals in their homes, which is hugely beneficial for both the animals and shelter staff. To continue reaping the benefits of this shift, the Behavior & Training team at SFACC has developed a custom online program to train volunteers for a new foster program called CHAMP (Caregivers Helping Animals Make Progress).
First, volunteers review an Introductory module, "Caring for Shelter Animals in Your Home," that covers basic shelter policies and procedures for fostering and will be required of all new CHAMP foster caregivers. Second, volunteers complete a species-specific module on either dog or cat fostering before they become an official CHAMP. The dog and cat modules give an in-depth look at species-specific behavior, SFACC-approved training approaches, and fostering expectations.
The Behavior & Training team has been hard at work developing these modules to prepare new foster families to be successful and kudos to SFACC staff Lauren (LT) Taylor and Ariana Luchsinger. Special thanks to Daniel Quagliozzi of Go Cat Go SF for offering invaluable insight on the behavior of our feline friends and contributing a great deal of the cat-specific knowledge for foster volunteers.
According to Lauren Taylor, Behavior & Training Supervisor, SFACC currently has between 64-70 individuals signed up for emergency/COVID fostering–some have fostered multiple times, some fostered once and fell in love/decided to adopt their foster ('foster wins'), some are still waiting in the wings for the right match. These individuals have supported us through the most difficult months of COVID and sprang to action when we needed them most.
Right now, 80 individuals have expressed interest in training for the new CHAMP program, and are in the middle of varying levels of onboarding/training. Of those, 27 have completed the Intro. module and either need to retake the quiz before proceeding or have passed the quiz and are awaiting the species-specific modules. New foster applications are coming in almost daily.
You do not need to be a current SFACC volunteer to join CHAMP! You just fill out an application online and wait for us to get back to you about next steps. Response time might be anywhere from 2 days to 2 weeks depending on shelter staffing.
Fosters working in the CHAMP program will have access to Maddie's Pet Assistant app, which is available for free and is a great resource for shelters and rescue organizations. The app gives advice on care, reminders on vaccinations, weight-tracking, and other tools to share photos and stories to help animals get adopted.
SFACC's CHAMP program is a proud recipient of funding from Maddie's Fund, helping to achieve a no-kill nation. The grant was used to cover foster supplies such as bowls, crates, Kongs, food bins, and enrichment for cats.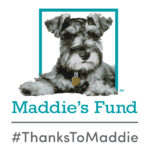 B&T's New Foster Program: CHAMP