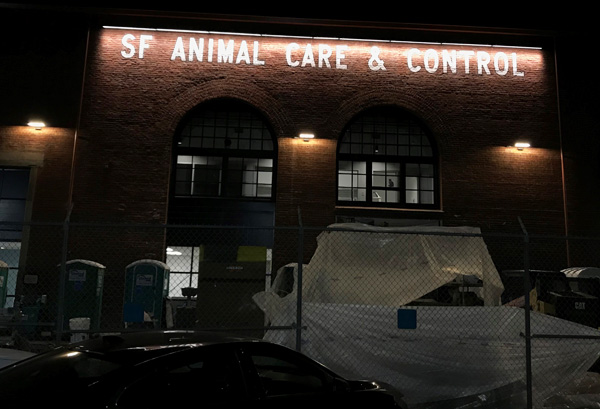 Here at the shelter, 2021 is off to a great start!
The new shelter has received its official temporary occupancy permit and we're putting the finishing touches on the building. From the freeway you can see our name in lights on the brick façade. We're eagerly looking forward to the day when we can show you all around our new digs and welcome our volunteers back!
One of the first things you'll notice is that we'll have three entrances: a beautiful adoption lobby that will allow families to begin exploring pets they can bring home, a secure lobby for pet surrenders and lost pet searches, and a separate entrance for Bernie's grooming customers. Being able to spread out a bit should result in a better experience for all of our clients.
Central to the first floor is a large outdoor play space, an ideal location to meet the dog of your dreams. Every dog will have much more space than they have in our current building.  The new veterinary suite is at least twice as big as the current space. We'll have room for surgical and dental procedures, and separate recovery spaces. Behind the veterinary suite are isolation rooms to keep our contagious animals separate from the rest of the population.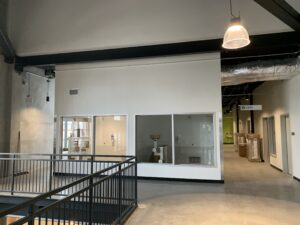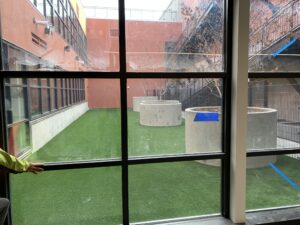 To see more photos of the new building, click HERE.
The second floor is home to all of our other species. From the top of the stairs you'll be able to see cats, birds, turtles and bunnies all in their separate rooms, ready to greet you.
As I write this, furniture installation has begun. We're scheduled to move in the first week of March and will keep you updated on our progress. Hope to see you all soon!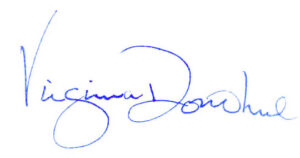 Virginia Donohue
Executive Director
New SFACC Facility to Open in March 2021