In May, the shelter directly adopted 49 animals in May: 30 cats and kittens, 3 birds, 4 dogs, and 12 small animals (guinea pigs, rabbits, and hamsters). SFACC transferred 251 animals to our rescue partners (53 dogs, 95 cats, and 103 other species). Thank you to all our fosters, adopters, and partner organizations!
Delilah Buttons (adopted April 2020) and Cocoa Pebbles (adopted March of 2021) are both princesses who have settled into their new lifestyles wonderfully. After a week or so of scent swapping, and sight swapping both girls would play "footsie" under the door, and when they started passing toys back and forth, we figured they were ready to meet whisker to whisker.
They play together, chase each other, eat together, and most recently clean and groom each other. Cocoa has been wonderful for Delilah as well. Delilah had been seeing a cat behaviorist for some unhealthy behaviors like excessive chewing and aggressive play. Delilah has been much calmer to both the two-legged and four-legged creatures of the home and we are no longer under constant attack. They love noodle toys that I make for them and lounging on their multiple cat trees and condos. Our house looks like a kitten kindergarten but the love and joy that we receive is totally worth it. Thank you for everything you do, cause what you do matters. I was inspired by Cocoa's patterns and I wrote a poem about her…
The Coffee House Kitten
I adopted a Tortie kitten named Cocoa
Who has tons of Espresso energy making her loco
Two deep cups of drinking chocolate for eyes
Staring at me looking loving, curious, and wise
Iced coffee tinted belly so soft, round, and warm
Her low roaring purr resembling a quiet storm
Carmel Macchiato dripping from her frothed milk chin
Trotting into the room she gives my heart a big grin
Café Con Leche is the dip of her tail
Don't feed her on time, and you will definitely hear her wail
Sweet as Mocha with a Café Au Lait soaked leg
She fits in our family like the perfect round peg
Adopt, don't shop I can't make it more plain
Love, friendship, and joy there's so much to gain
Who adopted who, I really can't say
All I know is that I love her a Latte
~ Chelise Ellis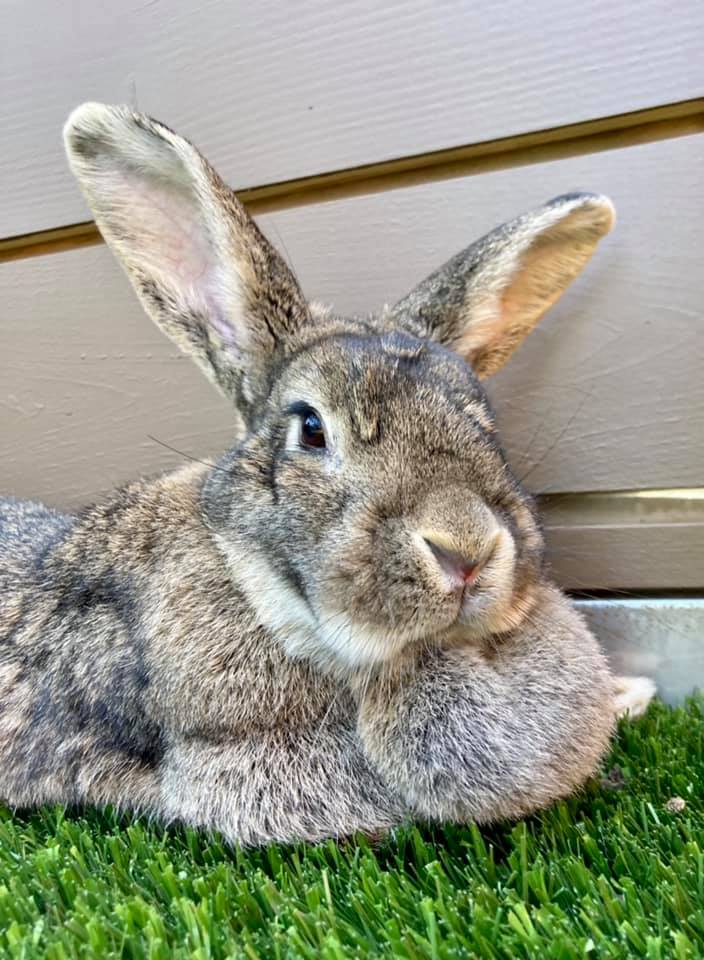 Big beauty Serafina has found her forever home! Hoppy trails!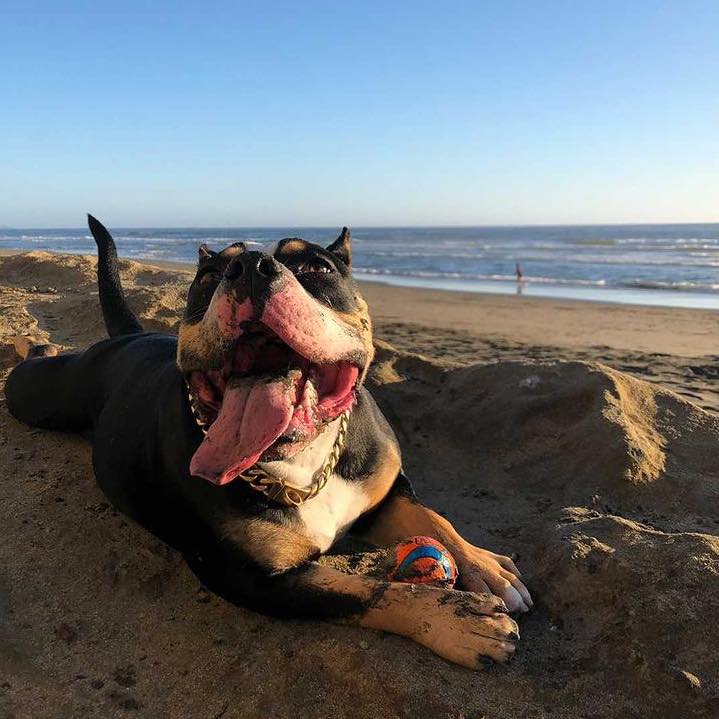 A wonderful update! Gorgeous Cocoa Puff is loving life: "We are literally joined at the hip 24/8. She's amazing. I am in love with her. Much gratitude to ya'll for allowing me to be her mama. It's been an honor."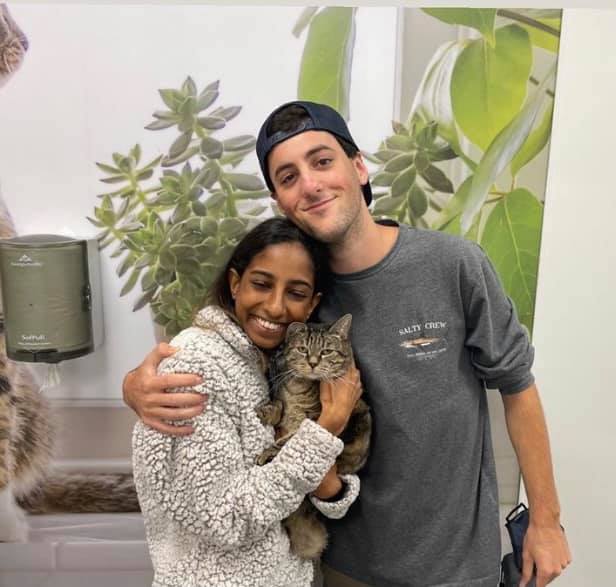 Chonky sweetheart Kitty has been adopted from our PetSmart adoption center! Her resting grumpy face is in full effect!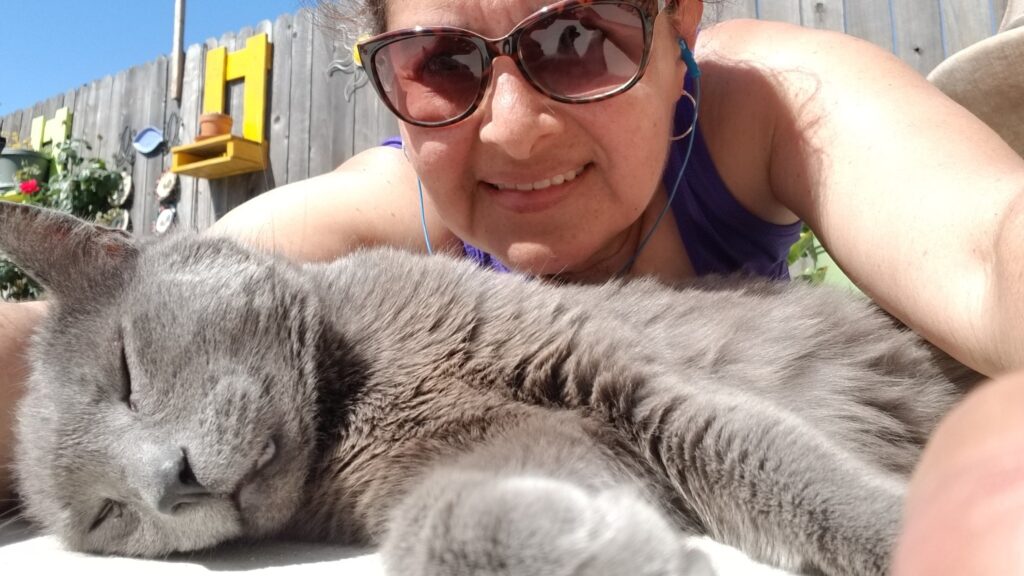 "Santa is a very especial Cat! She's 11 yrs old, Russian Blue. My husband named her Santa, because she started hanging out in our back yard around Easter time in 2020 (Spanish translation for SANTA is "holy week"). She is attached "literally" to my husband! They love each other, so much she takes over my side of the bed! LOL….She is a tough cookie! Once my husband let her inside the house, she never left. No one claimed her and she is now ours forever."
Arturo was part of our CHAMP Behavior Foster Program last year and he's thriving in his forever home complete with brother/BFF: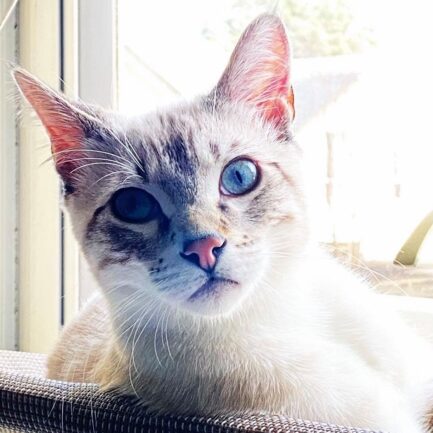 "I adopted Arturo (who goes by "Tito" most of the time) as a companion for myself and my 4-year-old cat, Merlin. When I met Tito, he was a shy kitten who wanted really badly to be brave. During Tito's first few days, he was skittish and hid a lot, but we started bonding through play. Once I found the way to his heart through toys, he quickly found his way into mine as he started climbing on me for cuddles. I kept Tito in a separate room to give him time to acclimate to his new home, but from that very first night, he and Merlin slept pressed up against the door that separated them. I think they felt their first meeting could not come soon enough. When they did finally meet, both cats were curious and timid with each other, but always gentle.
They are now the best of friends. Merlin provides Tito with grounded guidance, confidence, and patience—so much patience! Of the two, Tito is certainly the instigator. He's the mischievous little brother who sneaks up and pounces on Merlin, who in turn immediately begins to groom him as Tito melts into a relaxed slumber. Unless they're sleeping, Tito and Merlin are always playing with and chasing each other. And if his older brother is busy snoozing, Tito is at my side cuddling or bringing me toys to play with. This little guy has truly blossomed into a brave, confident cat whose endearing antics charm everyone he meets. Merlin and I are so lucky to have found him."
Sweet Clementine (was Bonnie) was adopted in March and we already have an update! "She is doing really well, up to various big puppy shenanigans on the daily (cardboard boxes are a new favorite), enjoys training classes (maybe a B- student, easily distracted, but lots of potential), eats 1lb 2oz of food twice a day (has gained approximately 10lbs in the last 6 weeks), and admired by many wherever we go (you got her where?!). We love her dearly and thank you for all that you do." …She also had her DNA analyzed and is a Mastiff hodgepodge of seven different breeds!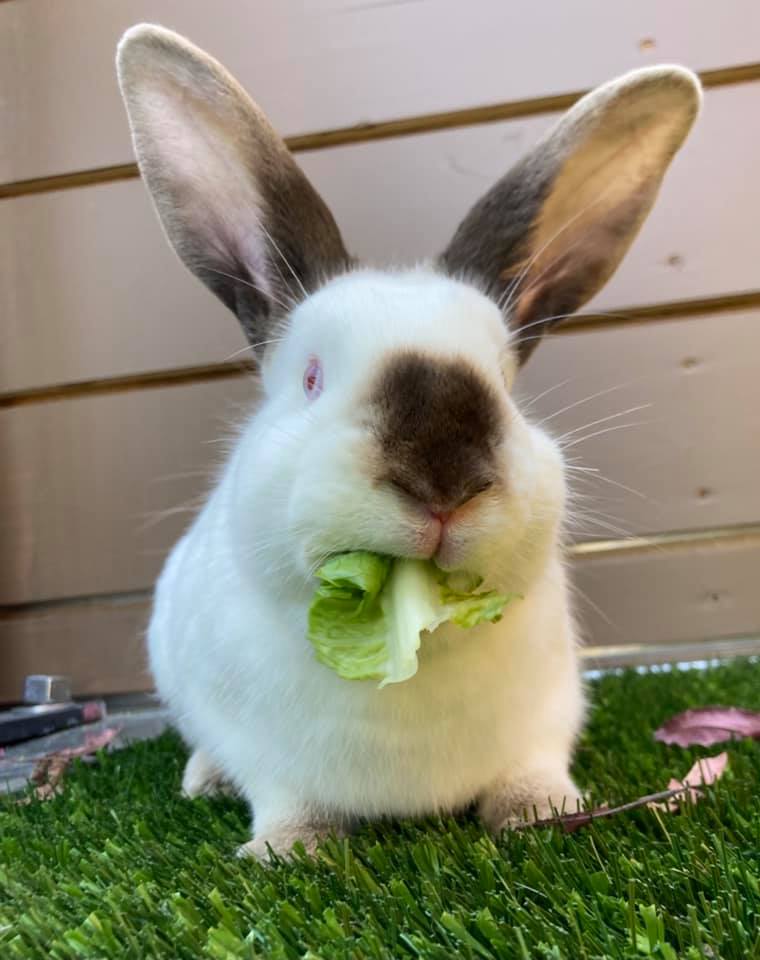 Wonderful bun boy Oreo Pelusa has been adopted and will be living at Friends of Loma Vista Farm! He'll be getting plenty of outdoor time and attention!