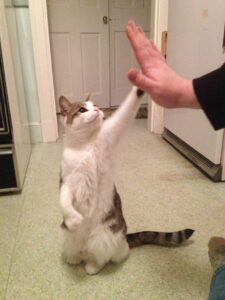 Train your cat to high-five!
You know your cat is smart. They can read your mind and manipulate you to serve their goals. Why not spend some quality quarantine time training them to impress your friends with tricks? If your cat loves treats, you can probably teach them to high-five in no time. A great activity for kids and kitties!
Match the dog to their person!
For those who enjoy a good coloring book and love dogs, download and print this Dog Activity Book, shared by the SFACC B&T team. Includes, word games and loads of great info about dog behavior. A fun learning tool for kids and adults!
Fun Activities for Kids & Adults During SIP