Freckle-face cutie Scrappy: "He seems really comfortable living here, and has come out of his shell… He absolutely loves getting attention and being around people, even if it's just me sitting next to him (he makes sure at least part of him is touching me) while I work. He seems more interested in people and dogs than objects/environments, and would rather have a good cuddle session than go for a run. But we still have a lot of fun playing fetch indoors. He's a wonderful walker (in ideal conditions), and generally quite attentive to me which makes it easier to train him. He's such a sweet boy and I feel so lucky to be able to look after him during this time!"
"Pecan Sandy has been such a joy to have in our home these past 3 weeks! She has perfect manners when we're making our food, rolls over for belly rubs, cuddles in our lap, and naps with her favorite stuffed toy. She has become much more confident in the house and seems to be overall loving life!"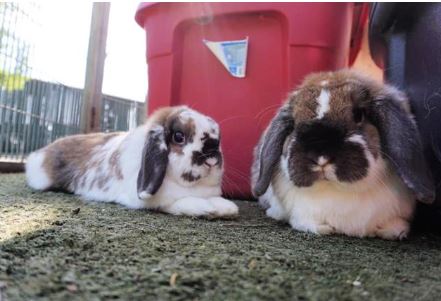 Nala and Bella…Both of these little ladies have the sweetest of dispositions! Bella (the bigger sister) is more adventurous while Nala (the petite sister) is a bit more reserved. Though they are both on the shy side, they quickly come out of their shells for food and treats! Some of their favorites include romaine lettuce, parsley, cilantro, fennel, pear, strawberries, and, of course, carrots! They love to snuggle together in cozy spots, groom each other, and loaf around, but will explore the house when given room to roam. They are skittish (as prey animals tend to be in general), but allow gentle pets especially while snacking on treats. They'll thrive in a home that provides continued socialization to help them get comfortable with human companions. They are gentle and completely non-aggressive (no biting, growling, etc.), have not chewed on any non-food items (like wires, furniture, etc.), and are litter-tray trained. They are also pretty much the cutest little furry beings on the planet!
Playful gent Shakespeare is looking for love! His foster says: Shakespeare is a fun-loving and affectionate guy! He has a lot of playful energy and is capable of some high-level gymnastics when he is motivated to catch his toy. He loves to curl up next to his foster for affection and love, which really gets his purr motor going. He enjoys scratching posts and interactive wand play as well as independent game playing with pom poms and mouse-shaped toys. By day, this clever 3 year old cat prefers to be busy and active. By night, this little sweetheart prefers to sleep in his foster's bed.
Shakespeare can get overstimulated, so he'll do best with an experienced adopter ready to play, play, play, in an adult only home. Per his previous owner, he's not a fan of dogs. Shakespeare is FIV+ but is still positively adoptable!
Shaka is easy going and a joy to be around! He is known to spend most of the day curled up in his bed next to one of our desks while we are working, either sleeping or chewing on one of his toys. He's very loving and affectionate. He often thinks he's a lap dog and will try to crawl into your lap whenever he can! He is energetic during play and generally well-mannered on walks, usually wanting to stop and sniff though on occasion has shown favorability towards a brisk power walk. Shaka knows "sit" and "come" and has been making some progress with learning "stay" and "down". Shaka has been very friendly with everyone he meets, dog and human! When he sees a dog on the street he generally gets excited and wants to say hi. He can be a little mouthy during play but is great when given the option to channel his energy into chewing toys. He's been a well-mannered boy in this home which is quiet to moderate in activity. He's a smart and loving boy likely to make a great addition to a home prepared with consistency and some structure for his day-to-day.
Chrissy and her adorably huge ears are comfy cozy in her foster home!