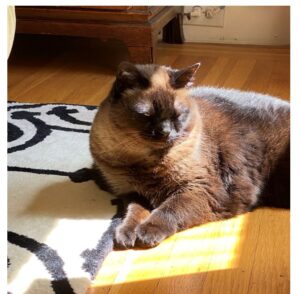 By Dawn Horrell
SFACC first came into my life when I had to surrender my grandpa's cat, Pat, almost 15 years ago. It was a heart wrenching life event, but I had a senior cat at home with her own health problems and just couldn't keep poor Pat. Luckily Pat was soon adopted and I was forever indebted to SFACC. Years later when it was time to get another cat, a friend and SFACC volunteer, accompanied me to the shelter where I found Marshmallow─quite possibly the best cat in the world (do we all think that about our cats?). Sadly, Marshmallow died just a few years later from cancer─she wasn't even seven years old. It was heartbreaking and months later I still miss her more than I can express with words.
When I saw that SFACC needed foster volunteers during Shelter in Place, I knew I had to help. Although I'm still not quite ready for another full-time cat, I knew I'd be able to foster. How could I turn my back on the organization that so kindly took in Pat and helped me find Marshmallow! Through a Facebook post, I went to the site and signed up. I figured that I'd never get a call… there must be hundreds of people reaching out to help. I guess I was wrong because the shelter emailed me just a week or so later.
That's when Aria came into my life. Her owner had to surrender her due to health issues. A situation that was very similar to how Pat and Marshmallow ended up at the same shelter─I knew it was fate. Aria is 11 and, I'm guessing, lived in her last home her entire life. She wasn't doing well at the shelter and had a hard time acclimating. I was more than happy to bring her into my tiny apartment where I live alone; nice and quiet for a shy older lady. Although my apartment is so small that I don't have any rooms that have doors that properly shut (yep, even the bathroom) I made sure I had plenty of hiding places for her in closets and under the bed where she could feel safe. Her favorite hiding place, however, was under my down blanket on my bed. I joked that it was her "job"─she'd climb up under the covers at around 9am and not leave until after 6pm; this happened Sunday through Saturday. She is a real workaholic! Every few hours I'd climb under the covers with her to give her some pets and receive some purrs for myself. She was warm and cozy and I loved cuddling with her under the fluffy blanket.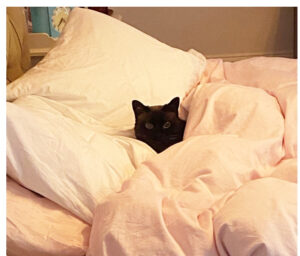 She stayed with me for just under a month. During that entire month she "worked" every day and would come out at night to hang out with me in the living room to watch some TV. She'd cuddle up right next to me and purr. I loved it. We'd also spend a little time playing. She was pretty lazy, but was really good at her version of the "Sit and Be Fit" workout where she'd lay on the floor and just bat at her feather toy ─not actually getting up or moving─just swinging her little arm and paw around trying to catch the feathers. The one game we would play that got her to move a little was Catch the Treat. I'd throw a treat and she'd sorta run/walk to catch it. It was a little counterproductive, but at least she got some steps in.
When the virtual adoptions opened up I was torn. "Do I adopt her?  Do I adopt her?" Every day, all day, it was all I thought about. However, a potential adopter surfaced after only a couple of days. We spoke on the phone and she told me about her love of cats and her need for a special little friend, and I immediately knew that Aria had a new home. I'm not going to lie and say it was easy, because it wasn't. I was growing very fond of my little, senior cat, but I also knew that Aria's new owner was ready for the love Aria could give her. I gave Aria lots of snuggles, hugs, and kisses during that last night and day. Knowing that she is safe in her forever home where she can live out a comfy retirement was all I needed to feel better. Let's just hope she stops working so hard!