Last month we shared a transport story (Curbside Pickup) about ACA Kathryn Jones, bringing an ACC dog to Idaho rescue for a second chance at adoption. This month, we pay tribute to three volunteer transporters: Cindy Dughi, Chris Johnson, and Jessica McEntee.
Transporting Is Transformative
By Cindy Dughi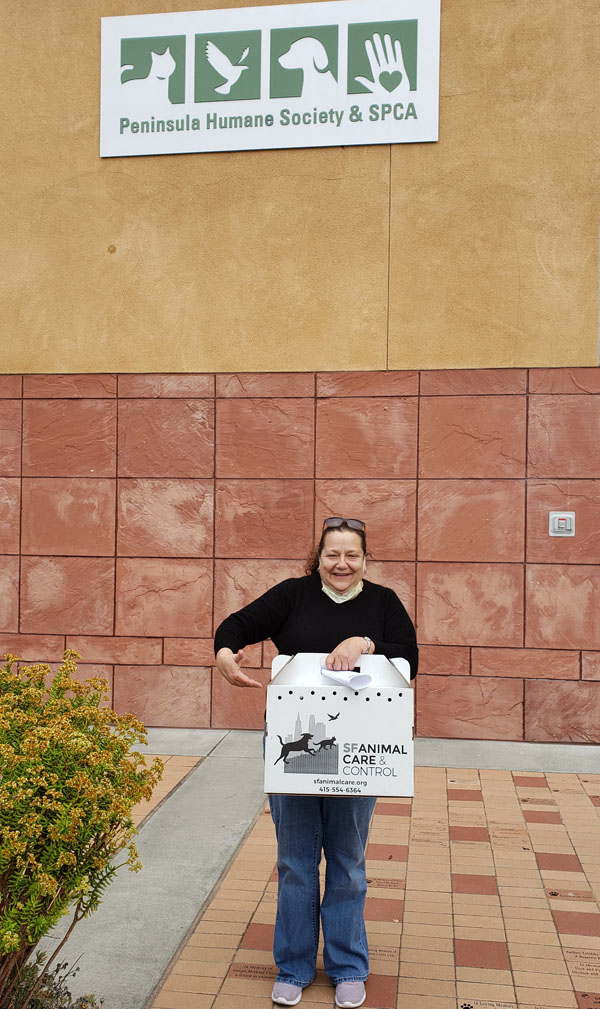 I've been a volunteer at SFACC for about 18 months. I had just left a very difficult work environment and I needed to give back. My love for cats is known by everyone. When friends go away, their cats come and stay at "The Kitty Spa." I did not have a cat of my own so I shared one with my friend. I would tell him that little Oreo called and needed a spa week and she would come stay for a visit.
I began as a cat volunteer at the shelter. I am not sure if I really heard this or if I made it up, but I was glad we were not supposed to adopt any animals for 6 months. In the first 3 months I wanted them all. But an opportunity came up to foster a 13-year-old cat (an ACC alumni) belonging to a U.S. veteran who was in the hospital and subsequently rehab. I took in Miss Paige. She was amazing and we grew to love each other. We even went to see her daddy in rehab. It was hard but after 6 months, she went back home. I thought I might be a foster fail but actually the gentleman adopted ME! I get to see them at least once a week to this day.
While doing my cat work, I heard about a need for drivers to take animals to other rescues for specific needs that they had. Since I was unemployed, I wanted to give as much as I could. Working with Tim, Maria, and Allen is such a joy. Our group is amazing. We are all so responsive and caring, knowing that the time we take to get an animal to a rescue could save its life. During our current SIP with the pandemic, it has saved my sanity, and I know it is the same for other drivers, in that we became essential workers and were able to go out to complete our necessary jobs to save the animals.
I have transported cats, kittens, dogs, puppies, racoon babies, birds of all kinds, bunnies, guinea pigs, rats, turtles, and dragons (yes!). I have traveled mainly to The PHS in Millbrae and Wild Care Center in San Rafael but have also been to Menlo Park for Ratzy Rat Rescue, Ohlone Rescue for wild animals, Fairfield and Mill Valley for rabbit rescues, Morgan Hill for sled dog rescue, Marin HS for cat adoptions, Vallejo for a reptile rescue, and Sacramento for a puppy adoption. But my favorite and most life changing is SnapCats in Santa Rosa. I had the opportunity to transport an elderly cat, age 16, to a forever home. This was a rescue org unlike any I'd seen before. I pulled into the yard and got my old man out and walked up to the house. The sliding door said "Come in but look down please." I opened up the door to a large room filled with 20-30 cats, toys, food bowls, and an outdoor enclosed patio with hammocks. At closer look, I realized that each cat had a disability. Blind kitties, and kitties with neurologic disabilities but all of them coming over to greet me. It was so beautiful. But that was just the beginning. We went up into the house and there was a whole area dedicated to elderly cats. I opened up the carrier and my old man came out and walked over to another old man laying by a water fountain; they sniffed and he laid down with a restful sigh. He was home. On the same level is a dedicated area solely for cats with cancer. As each cat is welcomed, they go on the website and are "adopted" for a pittance a month to cover their needs at the rescue. One man lives there but many volunteers help during the day. My takeaway was how happy and adjusted each one of the cats were. They had a safe and loving home.  Just a little different. But aren't we all?!!
The transport team can always use more drivers. While there is no compensation for gas or tolls, if you itemize your taxes, you can get 14 cents/mile reimbursement. I have a regular car, nothing special. The animals are in carriers, except one funny puppy (9-month-old husky) that I drove to the south bay. We secured him but somehow he ended up with his paws on my shoulders as we drove down 101…yes we got some looks and photos taken but I have learned now to test my knots and carabiners!
The rescues we visit are all so different but they share one goal: to help those who have no voice to help themselves. So, if you have a car and want to help, come join the Transport Team.
---
Singing with Pigs
By Chris Johnson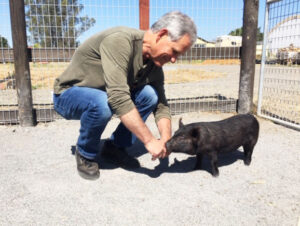 I've been volunteering at SFACC for approximately three and half years, primarily as a dog-walker, but I've also transported animals for much of that time. With sheltering-in-place, it has, necessarily, been my only activity at ACC, and I couldn't be happier for this opportunity to participate in the shelter activities and to spend some quality time with the animals. Plus it doesn't hurt that traffic has been so light, one bright side to the SIP.
Transporting is easy. I'm retired, so I have plenty of time. I drive a 2007 Honda Fit, a boxy hatchback which, while barely suitable for transporting humans, is actually quite good for transporting animals. I've managed to transport goats, pigs, baby raccoons, baby skunks, coyote pups, guinea pigs, hamsters, rats, many birds, including raptors, pigeons, gulls, crows, hummingbirds, and songbirds, and, of course, plenty of cats and dogs. For the most part, no special gear is required. Most animals ride in cardboard or plastic carriers, though I have used metal crates for some of the larger animals. But, occasionally, you have to be creative. The goat was fairly particular, and ultimately was transported on a bed of hay, with a folded metal crate serving as a barrier between the back of the car and the driver's seat.
We cover a lot of ground, the animals and I. For the most part, I take them from ACC to various rescue organizations, humane societies, foster homes, and adopters across the greater Bay Area. Occasionally, when the rescue group is located further afield, a convenient midway point is chosen, and a handoff is made with another volunteer who takes the animal on to its destination  (Some ACC transporters have taken their charges all the way to destinations as far away as Oregon, Nevada, Idaho, and Southern California!)
I've had many great experiences transporting animals, and it's challenging to pick one favorite. It could have been Pepper Ann, the pig I took to Flat Broke Farm in Cotati (very chatty), or the goat, also brought to Flat Broke Farm (very willful!). But I think my favorite had to be the seven beautiful husky pups I took to the Humane Society of Silicon Valley in Milpitas. Somehow, they all fit in my car. And while they could be quite raucous at times, they would, in unison, snap to attention when addressed directly. It was a sight to behold and very satisfying.
I get a lot out of transporting these animals; experiences that would be challenging to get elsewhere. I get to converse and sing with pigs (with nobody else looking on), and marvel at the strange, otherworldly sounds that baby raccoons somehow generate. And there is real drama traveling with a magnificent raptor in one carrier, an upset gull in another, and in the third, a baby hummingbird which can't miss a meal and needs to get to Peninsula Humane Society's Wildlife Center as soon as possible. I get to meet the many great, devoted, and passionate people that work at or, in some cases, single-handedly run the various rescue groups, and I get to visit the homes of the many wonderful foster families as I deliver their new charges. But, ultimately, I transport because it is another way that I get to participate in the process of delivering these beautiful animals to their new and better lives. It doesn't get any better than that.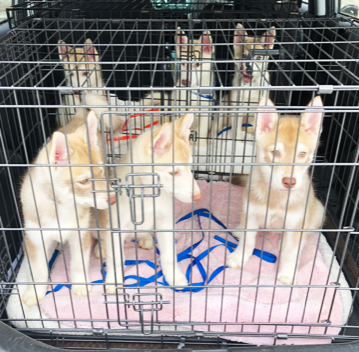 ---
Driving Miss Daisy
By Jessica McEntee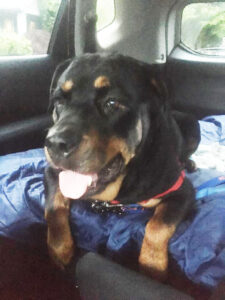 I set out with Daisy, a large Rottweiler, on Saturday morning (May 30th) to meet a transporter in Yreka who would then take her to Portland, Oregon to a rescue where she would start her new life. In April I had done the same type of handoff with a pittie who had been accepted by the same rescue, called The Heart of Rescue (THOR). They accepted Daisy after incredible staff person, ACC Katy Jones, contacted them. There are limited rescue options for Rottweilers in California so Katy has reached out farther and established a partnership with THOR in Oregon (and with another rescue I transported to in Arizona in March!).
Daisy was the perfect copilot and made the 5-hour ride to Yreka very enjoyable. When we arrived in rainy Yreka, I found out that the transporter I was supposed to be meeting had an unfortunate emergency with his own dog. After hearing more about the situation, I was concerned that even if I could deliver Daisy to the transporter, it would be a challenge for him to drive her the rest of the way to Portland given his current circumstances. After discussing the plan with Katy Jones and THOR's founder, Daisy and I decided to finish off the trip ourselves!
It would have been a shame to come that far and have to turn back around to SF without completing our mission. Daisy helped me stay nice and alert for the next 5 hours of the drive and even sang with me! It was so gratifying and very much worth 1300-mile drive to be able to drop her off at her foster's house and know that Daisy had officially started her new chapter. (The founder of the rescue was also immensely grateful.)
Transports are not only incredibly rewarding, but you might also get a chance to be serenaded on your drive!
Foster update (below): "Daisy is doing amazing and her foster family absolutely loves her. She has learned to play with toys – her favorite is her monkey!"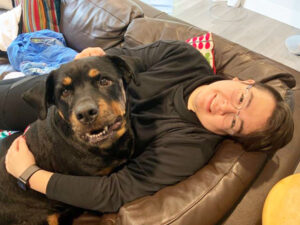 Transport Volunteers – Cindy Dughi, Chris Johnson, and Jessica McEntee