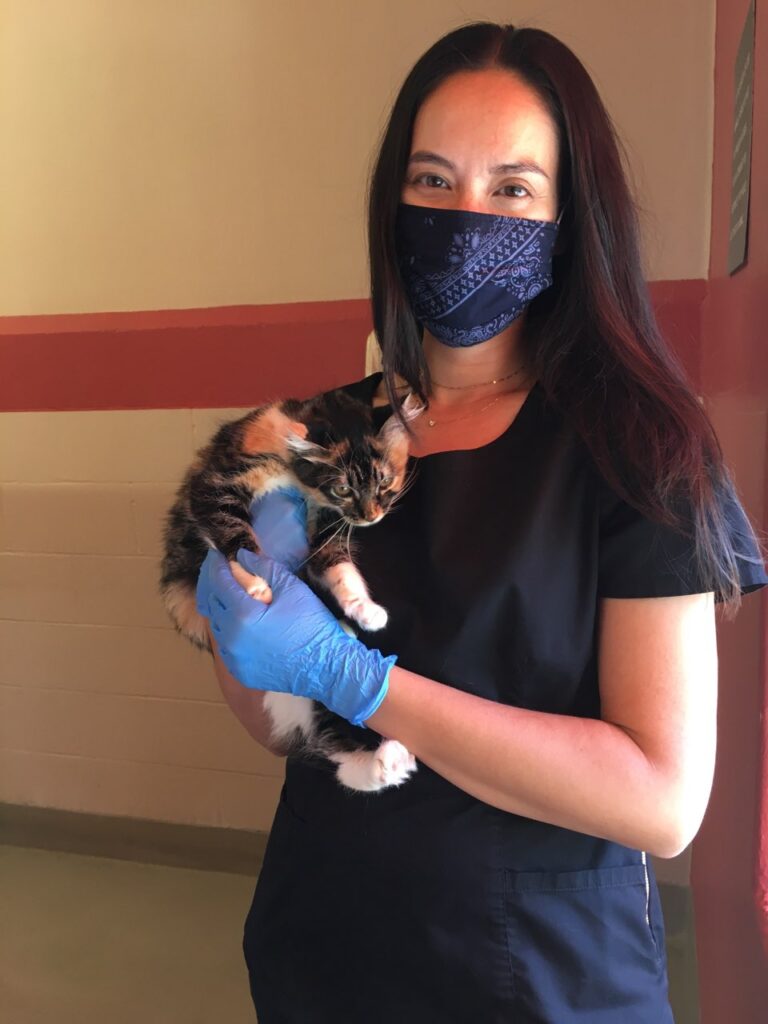 Getting to know SFACC's newest veterinarian, Dr. Lani Weiman…
Where did you grow up and how did you come to work at SFACC?
I was born in Taiwan and lived there for 11 years before moving to California. Growing up in Taipei, I saw numerous stray cats and dogs who were mistreated, had nowhere to go, and had no one to care for them. So, at an early age I decided to become a veterinarian to help animals. After graduating from college and working in pharmaceutical research for a few years, I went back to school for my veterinary degree. I then worked in general practice in San Francisco for several years before transitioning to shelter medicine.
What do you do at SFACC and for how long?
I started working at SFACC at the end of February 2020. As a shelter veterinarian, I maintain the health of the animals in the shelter and in foster by performing physical exams, as well as diagnose and manage their medical conditions. I perform routine and some emergency surgeries, and occasionally assist the Animal Control Officers with investigations.
What do you enjoy most about your job?
I find working at SFACC highly rewarding. I enjoy making animals feel better, and I like seeing animals without a home move toward their forever home.
Do you have pets of your own?
What do you do when not at work (hobbies, interests)?
Right now, I have four pets. Kea, a 13 1/2-year-old Shiba Inu; Bristol, a 13-year-old cat; Kitten, a 6-year-old cat; and Romeo, an 8-year-old cat.
What do you do when you're not at work?
I used to travel quite a bit but now I have two human children who keep me too busy for hobbies and interests.
What is the most memorable case you've encountered at the shelter?
Every animal who enters the ACC is special and memorable in his or her own way. The cases that are most memorable to me are difficult medical cases where we take a chance on an animal and they have a positive outcome; and there have been many such cases for me.
What impression has SFACC made so far?
I am most impressed by the dedication of the entire shelter staff, volunteers, and our hard-working foster parents. It takes a village to bring even one animal from admission to the shelter to adoption into their forever homes or transfer to a rescue/partner organization. The wonder team at SFACC makes these small miracles happen every day.
Any other comments about your experience at the shelter?
The wildlife, exotic animals, and pocket pets have been a learning experience for me! Prior to working at the SFACC, I worked exclusively in small animal (dog and cat) medicine, so being around the many animal species at the shelter has been both fun and educational.
Dr. Lani Weiman – SFACC Veterinarian