In August, the shelter found homes for 103 animals (80 cats, 10 dogs, and 13 small animals) through virtual adoptions (thank-you foster parents!). SFACC's partner organizations took in another 299 animals (143 cats, 42 dogs, 114 small animals). Here are some adoption stories and updates!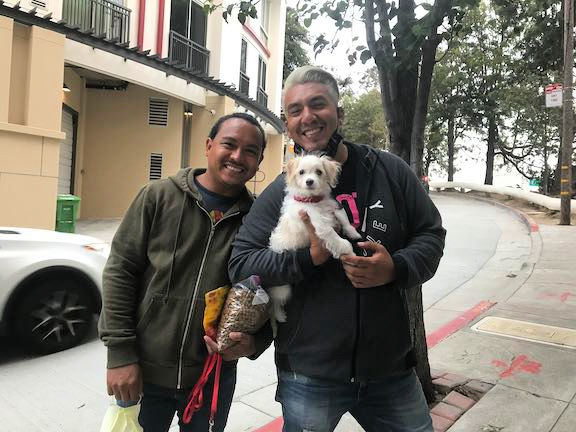 Sweet pup Raul has been adopted. Congratulations!
Handsome senior gent Little Fluff arrived at the shelter after his person died. After thoroughly charming our staff, he was adopted before we even posted him! His adopter sent in photos of him relaxing in his new home.
Beethoven was adopted about 2 years ago. His adopter reports "I wanted to send in some pictures to show how he's doing. The first picture is a few days after I adopted him, and the other two are how he looks now! When I was told he was returned twice, I knew we had to keep him!
Hope you guys are well! And thanks again for letting me make him apart of my family!"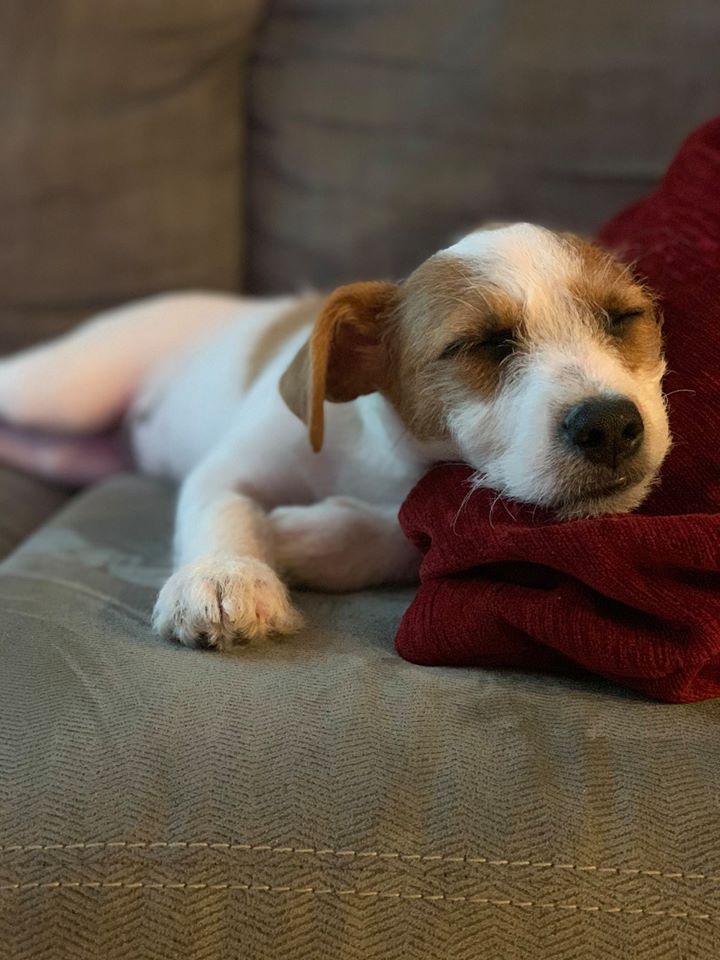 Bunsen (was Boo) came into the shelter as a teeny pup with his mom and siblings and was adopted last month. "Bunsen (formally Boo) is doing really well! He loves belly rubs, chasing balls, and is very cuddly. We are anxious to get his final shots in a couple of weeks so he can get out and explore the world. I've taken him to a couple of puppy play groups and he is super social. He is also very brave and confident with bigger dogs. He is really behaved and has already learned sit, shake, lay down, etc. We love him so much!"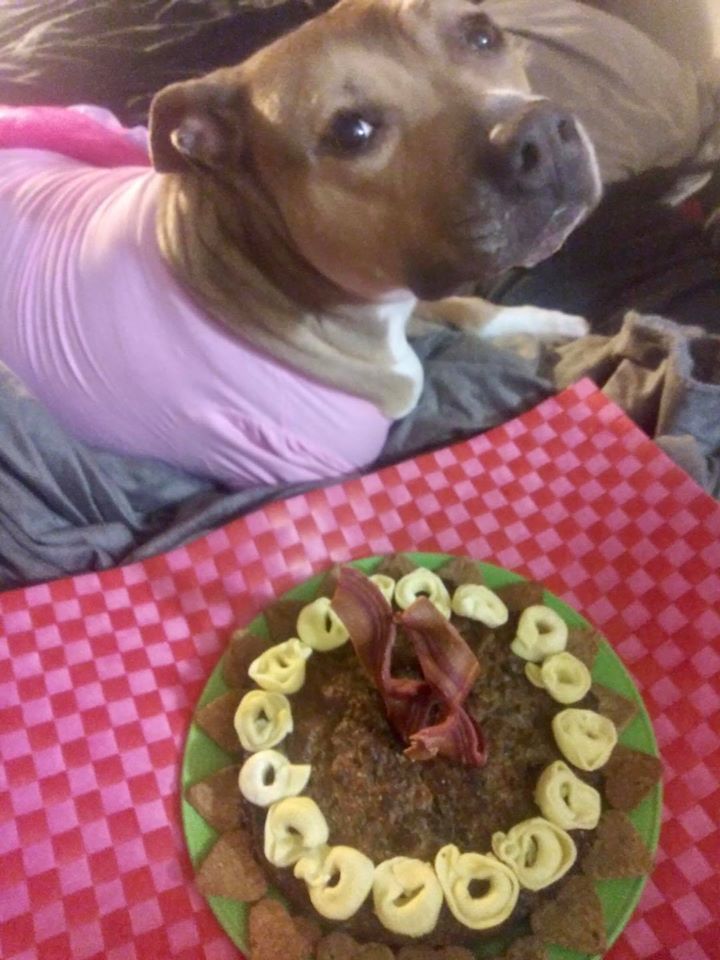 Happy 5-year adopta-versary to Isabelle! Her adopter says "Here is my beloved and cherished girl Isabelle celebrating her 5-year adopta-versary from SF ACC in July. We love You guys and are very grateful for the wonderful care u gave her while she was in your care. Isabelle is enjoying her life, her healthy homemade diet, back massages, nearby park and a rather extensive wardrobe of shirts, sweaters, dresses and tutu skirts. She is the best girl, a kitty worshipper and a wonderful California Assistance Dog. So smart, kind and loving. I cannot imagine my life without her.
We are me looking forward to many many more happy years together"
Cutie pie Stumpy McGee was adopted last month and we already got an update! He's settling into his new home, enjoying trips to the park, lounging on comfy dog beds and supervising work at home.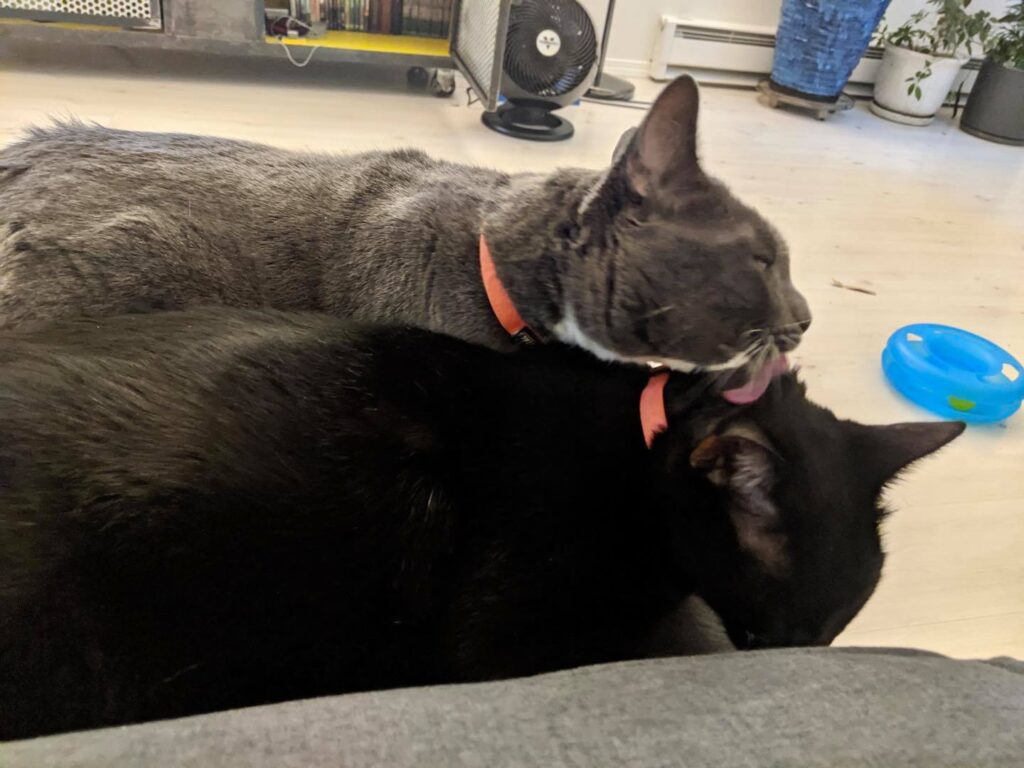 Matias was adopted recently and he and his new brother are already starting to be furriends!! His brother Grayson was adopted from a cat cafe in Portland.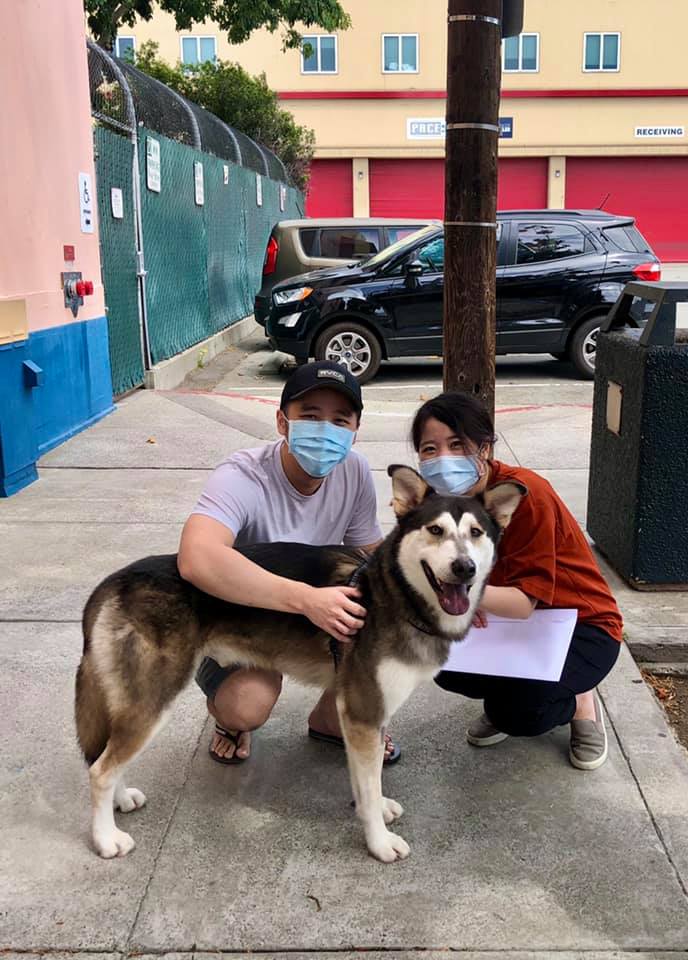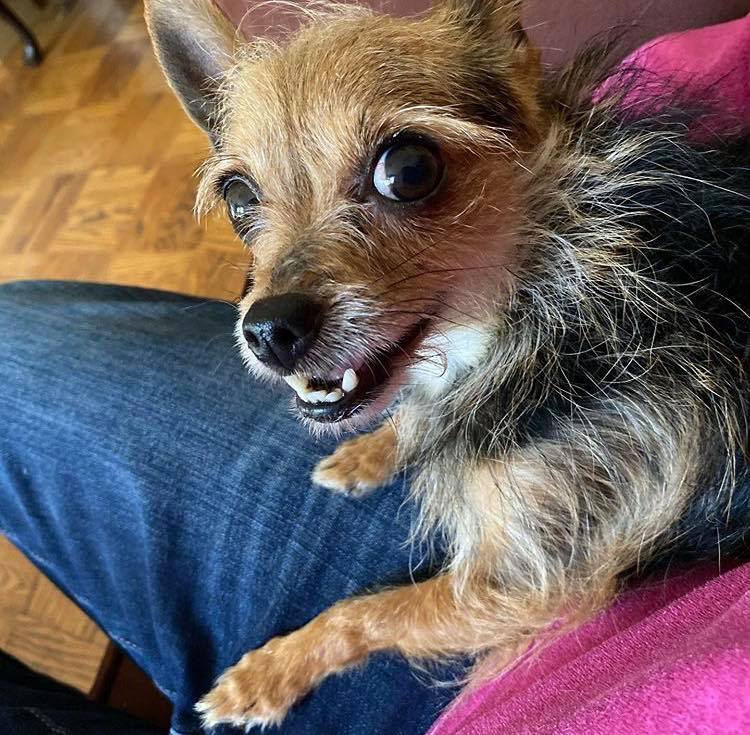 Scruffimuffin Lentil has been adopted. Her new name is Muffet; here she is on her "tuffet" in her new home!
Sushi was adopted as a puppy in 2018 and has grown up to be a big handsome adventure dog! He loves exploring, boating, and posing like a super model.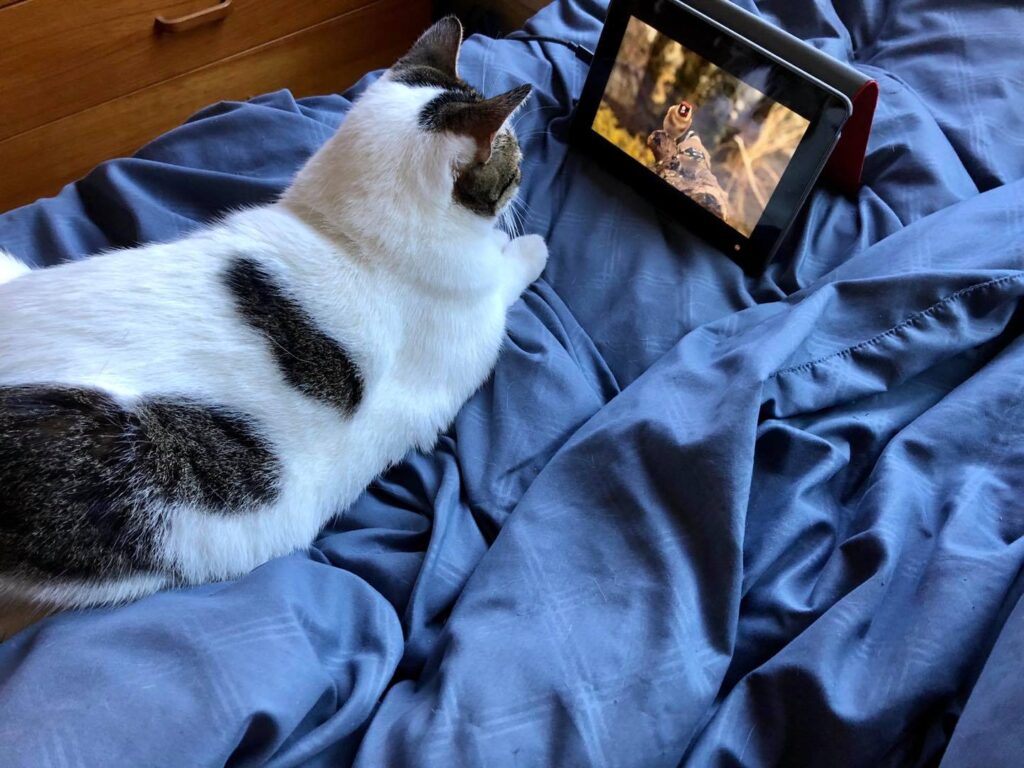 Clever SFACC alumna Claire has found an exciting way to experience nature: bird videos!
Gorgeous house panther Carmen was adopted earlier this month, and we already have an update: "We wanted to let you know that Kokoro (formerly Carmen) is adjusting well to family life. She has supervised visits with her canine sister and intros are going really well. She's a wonderful little chatterbox and loves to sit in the window overlooking the yard."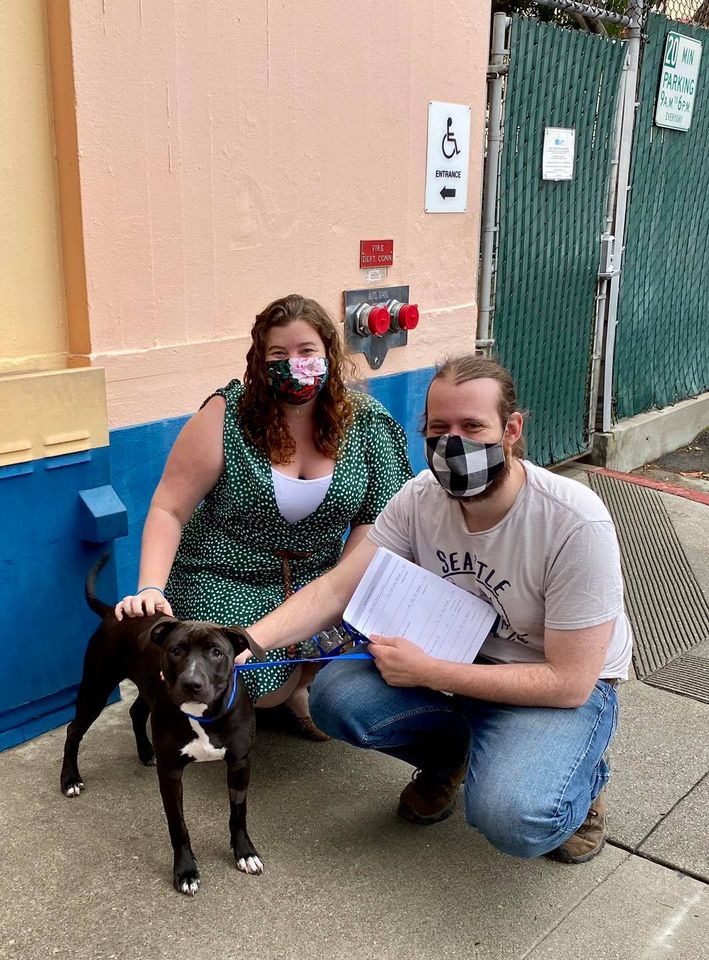 Pretty Plum has found her forever home!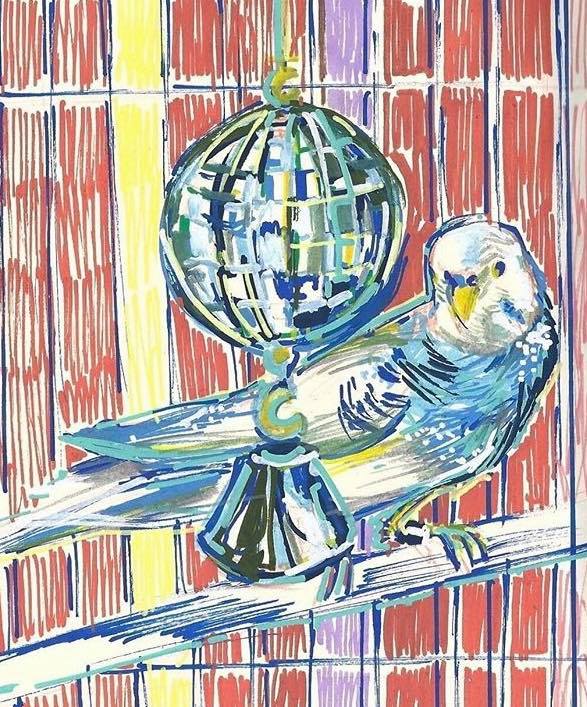 Sylvester the parakeet was recently adopted and is doing great in his new home! His adopter made this great portrait of him and his beloved disco ball!
Former foster Libby is now named Bagheera, the little panther: "she is doing fantastic, an incredibly smart cat, super playful and always looking for our company wherever we are in the house."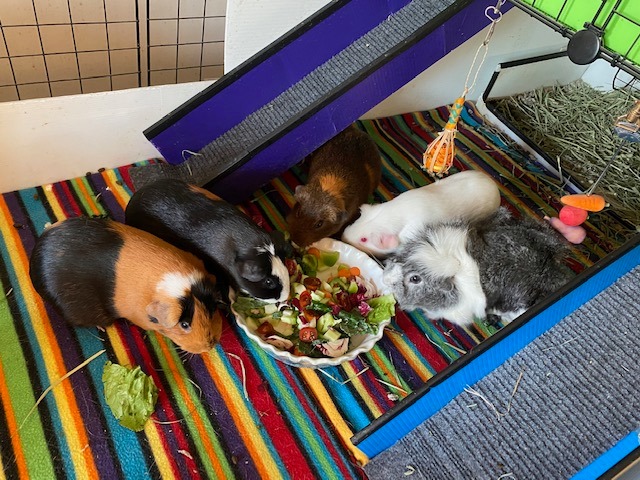 Dinnertime for five guinea pig cuties, all ACC alumni! Belle, Black Ears (now Bea), and Sandy (all three adopted together in July) with former ACC adoptions, Adilita (brown; adopted 2016) and Luna (crazy haired gray and white, adopted 2018) are one happy family now and enjoying each other's company.
Bubbles was one of our early virtual adoptions. Her adopters share: "I just wanted to take a moment to thank you again for bringing miss Bubbles into our lives. Today marks two months since we picked her up from you! She has really settled it in well. I'm learning more about her every day. She is still nervous sometimes but trusts Alex and I and we are enjoying new routines and rituals. I've attached some photos of our girl. Thank you for bringing this love into our home. We love this little goon."
A belated adopt-a-versary over here, but just dropping a note to send you pics of the former Bramble Pie – today known as Lorraine "Lolo" Hansberry – living her best life and bringing energy and big joie de vivre to our lives. She's a regular circus trick dog, with many awesome things in her repertoire. She loves to jump through hula hoops, sit in boxes, hunt for squeaky toys and climb all things, including the occasional window that she should really stay out of. She loves to learn new things and is a training maniac.
Thank you so much for bringing her into our lives,
AJ, Christine and Lolo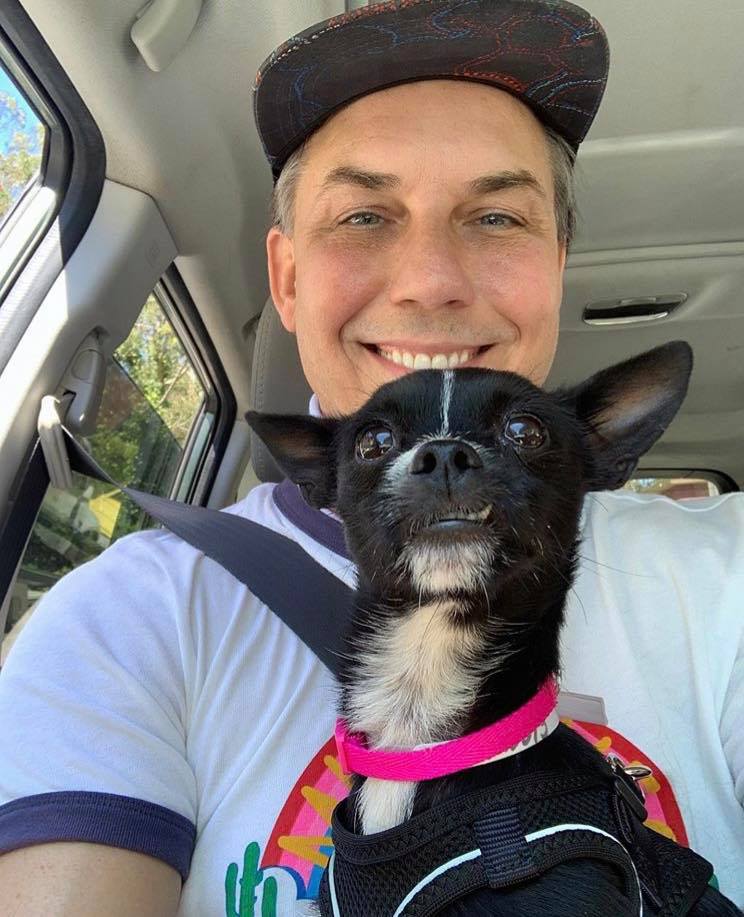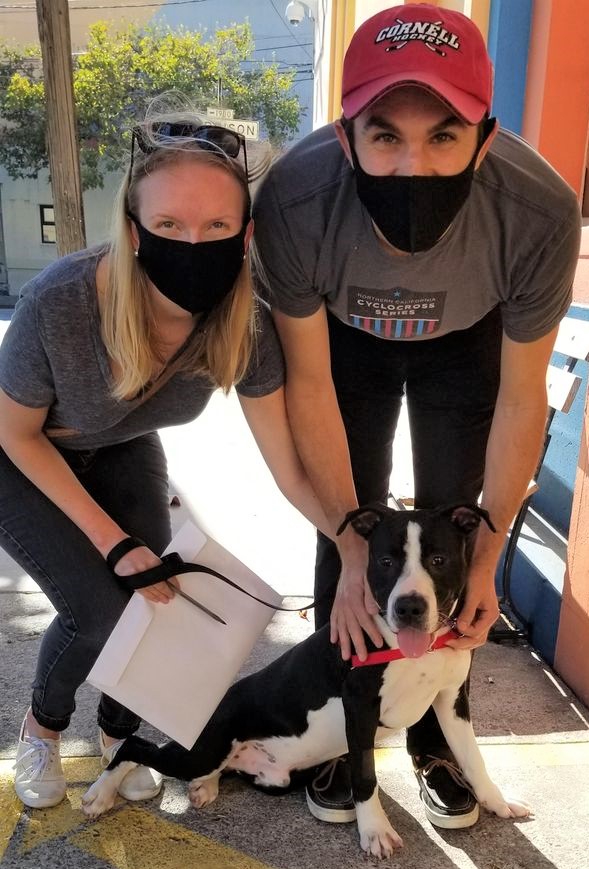 Ferris and his new family.