Monday, March 8, 2021
Contact: Mayor's Office of Communications
SAN FRANCISCO OPENS NEW ANIMAL SHELTER
The seismically safe facility provides enhancements for animals, volunteers, staff and visitors
San Francisco, CA — Mayor London N. Breed today announced the opening of Animal Care & Control's new state-of-the-art, seismically safe shelter in the Mission District that will serve the thousands of domestic and wildlife critters that come through the doors every year.
With nearly double the square footage of the old facility, the new 65,000-square-foot shelter at 1419 Bryant Street includes a modernized veterinary suite, better ventilation, improved cleaning systems to reduce the spread of disease, and mechanisms that more effectively control noise and odors. The new adoption center's expanded play and training areas for animals, and larger education spaces, will better serve the public, animal care staff, and volunteers.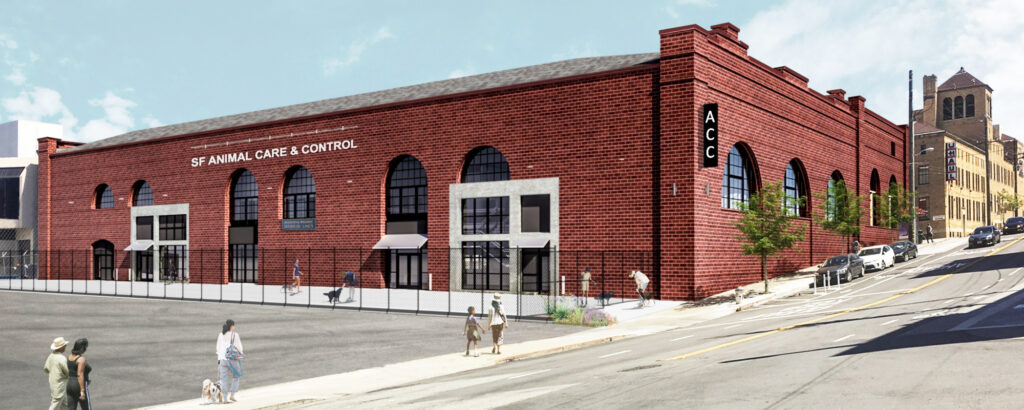 "Throughout the pandemic, we've continued to make progress on our critical infrastructure projects, supporting good jobs and making our city more resilient," said Mayor Breed. "Thanks to our long-term planning and capital investments, and the hard work and dedication of everyone involved in the project, we now have a modern, seismically safe, new animal shelter that allows us to ensure the animals in our care are housed in safe, sanitary, and humane conditions. The new facility also offers improved space for education, training and volunteer services."
The agency takes in close to 10,000 animals of all species a year and operates San Francisco's only open-admissions shelter, serving dogs, cats, rabbits, raccoons, goats, pigs, pelicans, snakes and squirrels, in addition to many other creatures.
Planning for the facility started a decade ago, and construction began two years ago. Animal Care & Control had been operating out of a former Depression-era warehouse at 1200-15th Street that lacked adequate space for the animals, staff and volunteers, and did not meet current earthquake and other life-safety building codes to serve San Francisco's 21st-century needs.
Infrastructure projects like the new shelter create jobs and will be a critical part of San Francisco's recovery from COVID-19. At its peak, the project employed 110 workers in the construction trades, in addition to creating many other jobs across the project's manufacturers, vendors and material supply chain partners.
"We're absolutely thrilled to continue our life-saving work in a new, beautiful, and safe facility," said Virginia Donohue, Executive Director of Animal Care & Control. "We look forward to our innovative and improved home becoming a welcoming place for animals and the community."
The shelter is the place to go to take a found pet, or to search for a lost pet, and offers an adoption program that includes small and exotic animals in addition to dogs and cats. The agency has a staff of 55 that includes a team of 12 Animal Control Officers who respond to animal-related emergencies and investigate cases of animal cruelty and neglect. Animal Care & Control has a large pool of dedicated volunteers who provide animal enrichment, exercise, and socialization for the animals. Collectively, the volunteer team gives more than 27,000 hours of time annually and are essential to the well-being of the animals.
At this time, the new shelter is limiting public access due to COVID-19 restrictions but is looking forward to welcoming back visitors and volunteers when it is safer to do so. In the meantime, Animal Care & Control staff is continuing to respond to animal-related emergencies, offer virtual adoptions and provide in-person services, such as handling lost and found animals, by appointment only.
"Our family adopted a rescue in the past and even though Birdie is no longer with us, she brought a lot of joy into our lives. The new Animal Care & Control facility will provide a place for healing and care for animals in need before they find new loving homes," said City Administrator Carmen Chu. "San Francisco has been a longtime leader in animal welfare, and the services ACC provides will be enhanced through this critical project."
The Friends of SF Animal Care & Control (SFACC), a nonprofit organization, worked diligently to raise funds to support the project. "The Friends of SF Animal Care & Control is honored to have played a role in supporting the new shelter," said Lauren Weston, Board Chair of The Friends of SFACC. "It is heartwarming to know our work will matter to so many animals and humans alike."
The new home for Animal Care & Control involved the adaptive reuse and rehabilitation of the original Market Street Railway Company powerhouse, which was built in 1893 and expanded nine years later. The shelter was constructed within the building's original footprint and retains the historic brick façade and industrial wood windows, but was repurposed to house a modern, multi-level facility that includes rooftop animal runs and an interior courtyard where animals can enjoy fresh air.
"The imaginative and thoughtful reuse of this historic building has been an exciting project for our team to partner on," said Acting San Francisco Public Works Director Alaric Degrafinried. "We were able to preserve an important part of the City's past and deliver a safe, modern and user-friendly facility that will serve the needs of San Francisco for years to come."
On behalf of San Francisco Animal Care & Control, Public Works designed the new facility and managed construction. Clark Construction served as the general contractor. The building features beautiful and colorful animal-themed artwork chosen by the San Francisco Arts Commission.

"An animal shelter can be a very stressful environment for both pets and humans," said Ralph Remington, the City's Director of Cultural Affairs. "The large-scale images in wood and glass by Bay Area artist Favianna Rodriguez welcome those who are considering adoption as well as owners of lost pets. They are colorful and heartwarming, helping to calm a charged situation. The beauty of art is that it can define the mood of a space, and that mood can help shape a positive experience for all parties – furry, feathered or otherwise."
The $76.4 million project, which is part of the San Francisco 10-Year Capital Plan, was funded primarily with Certificates of Participation proceeds. Certificates of Participation are a source of funding used for the acquisition or improvement of existing or new facilities; they often are backed by physical assets in the City's capital portfolio and repayments are appropriated each year out of the General Fund.
View the virtual video celebration marking completion of the Animal Care & Control project here: https://youtu.be/NpykBcN6y0A
Opening Day at the New SFACC Shelter!