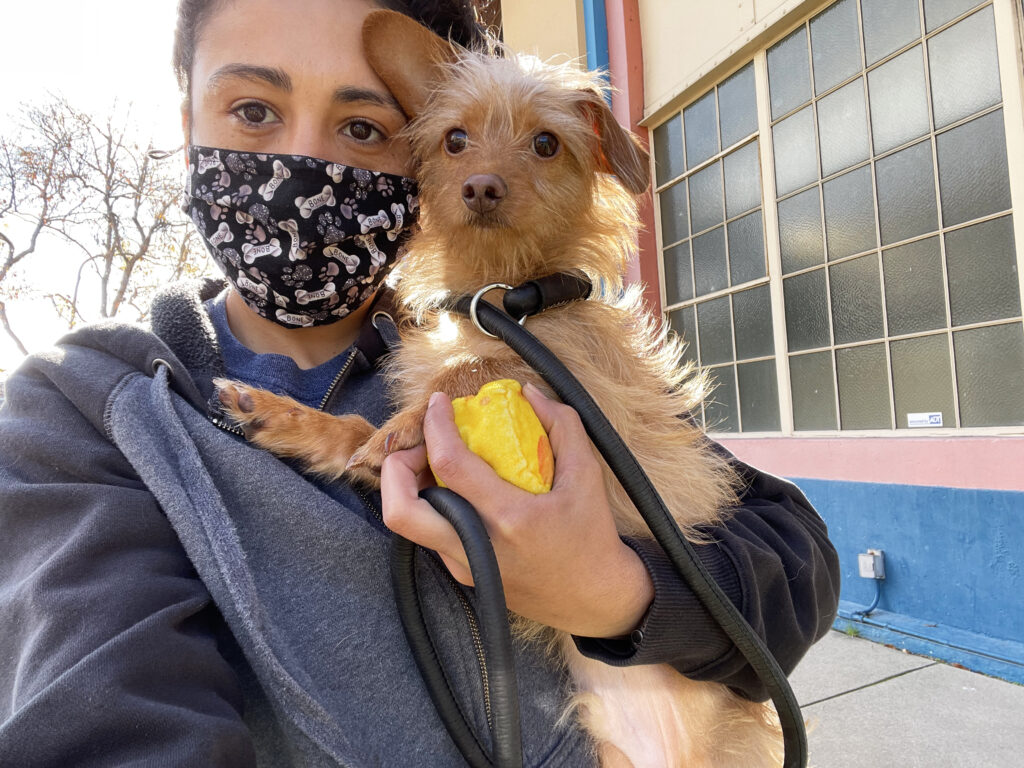 Emily Bolduc came to SFACC with the intention of becoming a volunteer. With her background working at a local boarding facility, she was eager to lend her skills to the dogs and cats waiting for homes at the shelter. She never made it as a volunteer. During the orientation, she learned that ACC was hiring a part-time temporary animal care attendant (ACA) and applied for the job. She joined the staff in Dec. of 2019 and became a full-time permanent ACA in July of 2020. Animal care attendants carry out the cycle of an animal's stay at SFACC: receiving the animal in the lobby; setting them up comfortably in a kennel, cage, or aquarium; providing enrichment (exercise and socialization), administering medicine as directed by the vet staff; and conducting virtual adoption meetings on zoom. ACAs play a critical role in the animal's chance at a new life.
Back to Emily…growing up in Central Massachusetts, Emily's family embraced a menagerie of animals: dogs, cats, mice lizards. When she went to college in Rochester to study biotechnology, her roommate had a lab/Rottweiler, Levi, who she helped care for in his twilight years. Emily bonded strongly with the dog and felt the deep responsibility of caring for an animal. The experience might have forged her path to helping animals.
After college, Emily and her boyfriend drove across the country to San Francisco, where her boyfriend was starting a new job. The experience of caring for her roommate's dog still resonated with her and she took a job at Wag Hotel, where she worked for 6 years, first as an enrichment coordinator, supervising dog play groups, and eventually as a manager. That's when she decided to head to SFACC to apply as a volunteer (the old location is across the street from WAG). Instead, she applied for the part-time position to cover for staff who were bringing kittens to the Macy's Windows event (before the shelter-in-place shutdown). "It's odd that most of my time at SFACC has been during the SIP."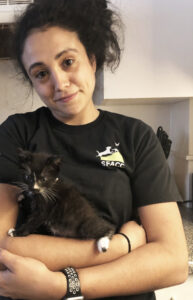 Emily notes that without volunteers in the building—though they are helping in other ways like fostering and driving transfers—the staff has the opportunity to do more enrichment with the animals directly. "We take the animals out of the kennels and work with them. It gives us the chance to see their personalities out of the kennel and to observe changes in their behavior that we can share with the Behavior and Training team. We can advocate and collaborate in this way, which sets an animal up for success." As an example, Emily shares the case of King, a pit bull stray with a tendency to become overexcited. Working with techniques guided by B&T, Emily saw progress in King's interactions with people, which she relayed to the B&T team. They continued to work with King and his interactions with people improved to the point where he was able to be transferred to a rescue partner and charmed his foster family so much, they adopted him.
One of her favorite things to do on the job is take animals out of the kennel and engage them for photo shoots. She likes to capture their personalities with the goal of getting them adopted into the right home. "Showing a dog having a great time in the yard or a cat playing with toys or lounging in a relaxed moment is so much truer to their character than a sad face sitting in a kennel."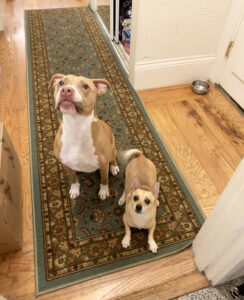 Like many shelter staffers, Emily has two rescues of her own at home. Both were strays in S.F. and are beloved family members: Rizzo, a sweet pit bull, and Pancho, the Chi. Both are middle-aged and sweet. Emily is also very fond of plants, a passion she learned from her grandmother. "I have about 50 houseplants right now, which is probably my biggest hobby at home, plus cooking and walking my dogs."  During the pandemic, instead of making sour dough starter, Emily's pet project became creating a plant aquarium. Then she decided to add beautiful red and white freshwater shrimp. "I started with about 10, and now I have around 50. They're fun and colorful!"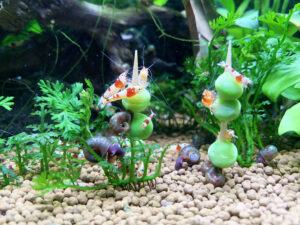 When asked what has made an impression on her working at SFACC, Emily doesn't hesitate, "Everyone here has such respect for all the animals that come in—whether it's a pigeon, cat, dog—it doesn't matter what the species or circumstance is. Every animal is treated with the same high level of care. And it's not easy because different species have specific needs. We all try to meet those needs and set each animal up for success."
Emily Buldoc — Animal Care Attendant