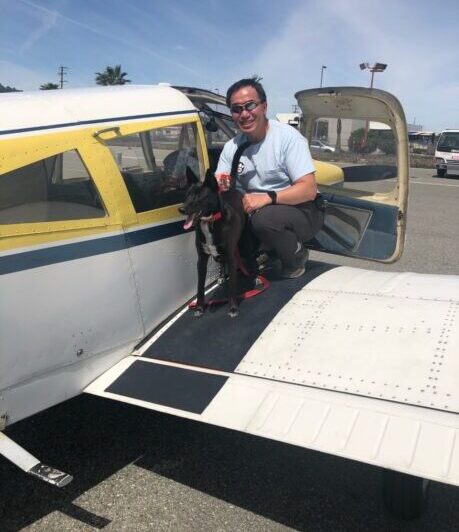 By Kathryn Jones
Adoption Partner Transfer Coordinator
A few weeks ago, we received a dog for surrender who originated from a rescue in Colorado. Typically, when a dog is surrendered to SFACC and comes from a rescue, that rescue will take their dog back. This is great because it allows us to use our resources on dogs that do not already have rescue placement.
Wayne, or Lil Wayne, as he lovingly became known, is a teenage herding dog mix who was having a hard time in the city. He needed to get back to where he came from–the Rocky Mountains! As the rescue coordinator, I tracked down Wayne's original rescue and reached out to them to see if they would be in a position to take Wayne back. And fortunately, they were!
Now came the real challenge. How on earth do you get an anxious teenage working dog from San Francisco to Colorado? Wayne had about 1,300 miles to cover and that was a daunting prospect.
With the help of a crew of volunteer pilots, an SFACC transporter, and a volunteer driving on the receiving end, we made it happen. One of our fabulous transport volunteers, Chris, picked up Wayne from our shelter on Thursday morning and delivered him to the little airport in San Carlos. From there, Wayne flew to Elko, NV and then hopped aboard a different plane and flew to Salt Lake City, Utah. From Utah, a volunteer transporter drove Wayne back to his hometown of Brighton, Colorado.
This transport had a lot of moving parts and factors I had never previously had to worry about (wind!) that made it an interesting challenge. It was really inspiring to see how many people were willing to donate their time, skills, and resources in order to help a dog they'd never even met. And now Wayne is safely back where he belongs!